May 22, 2019
Center for Scientific Review
National Institutes of Health
U.S. Department of Health and Human Services
The Center for Scientific Review (CSR) at the National Institutes of Health (NIH) has selected Dr. John Pugh to be the new Chief of its AIDS and Related Research Integrated Review Group (IRG).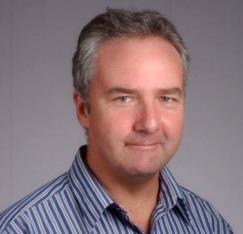 Dr. Pugh previously served as a Scientific Review Officer (SRO) for the Virology B Study Section within CSR's Infectious Diseases and Microbiology IRG. He also served as a Referral Officer, helping to assign NIH grant applications in all the scientific areas covered by CSR's Division of Physiological and Pathological Sciences.
"John brings extensive review experience, mentoring skills, and creativity in managing review challenges to the Chief role, and we are fortunate to have him in this important position" said CSR Division Director of AIDS, Behavior, and Population Sciences, Dr. Valerie Durrant. She also noted that Dr. Pugh brings a broad understanding of molecular virology from his earlier research career.
Dr. Durrant added that he is uniquely prepared for this leadership position after being a founding member of CSR's mentor program, making outstanding contributions to the training of new SROs and administrative staff, and playing a key role in a subcommittee of the trans-NIH Review Policy Committee focused on SRO technical competencies.
As AARR Chief, Dr. Pugh will oversee six standing panels, recurring special emphasis panels for fellowship and small business applications, and numerous special emphasis panels reviewing a broad range of grant applications related to HIV infection. Science covered by AARR spans the areas of molecular virology, cell biology, immunology and pathogenesis, therapeutics, as well as behavioral and social science, and epidemiological and population-based approaches for HIV prevention and care.
Dr. Pugh earned a Ph.D. at Liverpool University. He went on to become an associate member at Fox Chase Cancer Center, worked in industry, and was an SRO for the American Institute of Biological Sciences prior to joining CSR.
For more information, contact Don Luckett, CSR Communications, at 301-435- 1111. Follow CSR on Twitter, Facebook, and Linked In.
About CSR
CSR organizes the peer review groups that evaluate most of the grant applications submitted to NIH. These groups include experienced and respected researchers from across the country and abroad. Since 1946, CSR's mission has been to see
that NIH grant applications receive fair, independent, expert, and timely reviews — free from inappropriate influences — so NIH can fund the most promising research. CSR also receives all incoming applications and assigns them to the NIH institutes and centers that fund grants. For more information, go to CSR's Web site (http://www.csr.nih.gov) or phone 301-435-1111.
About the National Institutes of Health (NIH)
NIH, the nation's medical research agency, includes 27 Institutes and Centers and is a component of the U.S. Department of Health and Human Services. NIH is the primary federal agency conducting and supporting basic, clinical, and translational medical research, and is investigating the causes, treatments, and cures for both common and rare diseases. For more information about NIH and its programs, visit www.nih.gov.