CSR News Flash Contact:
Don Luckett
May 22, 2018 CSR Press Office
Center for Scientific Review 301-435-1111
luckettd@csr.nih.gov
National Institutes of Health
U.S. Department of Health and Human Services
New NIH Scientist Launch Game ® App Propels Students into Health Research
Students age 10 and up now have a fun way to experience the excitement of advancing science and health and exploring a research career. The Center for Scientific Review (CSR) at the National Institutes of Health (NIH) has just released the NIH Scientist Launch Game® app.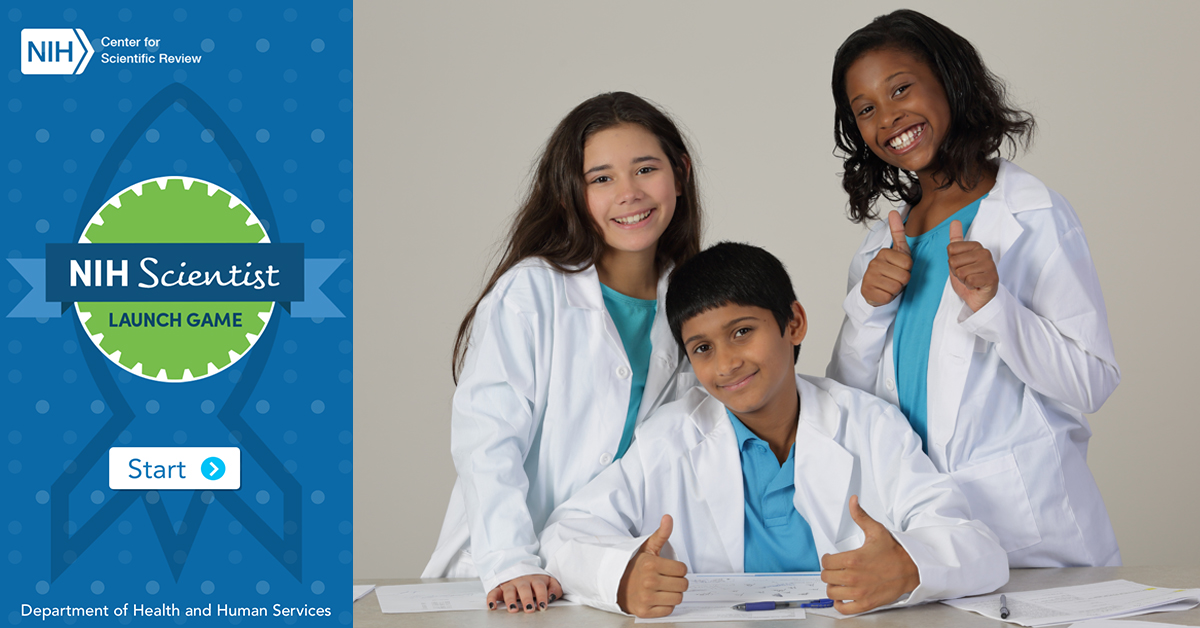 "Our app breaks new ground in STEM education," said Dr. Noni Byrnes, CSR Acting Director. "It leads players through the challenges and excitement of learning about science, getting a grant, and overcoming challenges researchers often face. Along the way, players learn more about various diseases, experimental design, and the life of a successful scientist."
Parents, students, teachers and homeschoolers are encouraged to download the free app, which is available in both iOS and Android formats.
How the Game Works
Players are asked to join the fight against cancer, heart disease or the common cold. A diverse group of boys and girls cheer players on as they work through Q&As in three levels:
Earn a Virtual Lab Coat by learning about the causes, symptoms, preventions and treatments of common diseases.
Get a Grant by reviewing a short research proposal and learning about the elements of rigorous and ethical research.
Advance Health and Science by navigating through real-life challenges.
How the Game Was Developed
The NIH Scientist Launch GameTM game was developed over the last two years with input from hundreds of children and many scientists and science writers from CSR, the National Heart, Lung, and Blood Institute; the National Institute of Allergy and Infectious Diseases; and the National Cancer Institute. A STEM educator affiliated with the Science Education Partnership Award Program also contributed to the game.
The Game Is Dedicated to Two Kids Who Inspired NIH's STEM Programs for Children
In 1958, a 9-year old named Terence Boylan and his friend Bruce Cook sent NIH a request for $10 to fund their rocket research. NIH officials were inspired to pass the hat and give them a "grant." They also were inspired to create NIH's first STEM programs for children. Terence and Bruce's amazing adventure can be discovered in a children's book and cartoon: The Rocket Kids of NIH. Their adventure and inspiration thus continues with the release of the NIH Scientist Launch Game.TM.
Get More Information at CSR's Science Education Web page. The Center for Scientific Review organizes the peer review groups that evaluate the majority of grant applications submitted to the National Institutes of Health. CSR recruits over 18,000 outside scientific experts each year for its review groups. CSR also receives all NIH and many Public Health Service grant applications — about 95,000 a year — and assigns them to the appropriate NIH Institutes and Centers and PHS agencies. CSR's primary goal is to see that NIH applications receive fair, independent, expert, and timely reviews that are free from inappropriate influences so NIH can fund the most promising research.
The National Institutes of Health (NIH): For more information about other NIH resources for students and teachers, visit the NIH Science Education web page. NIH is the nation's medical research agency, includes 27 Institutes and Centers and is a component of the U.S. Department of Health and Human Services. NIH is the primary federal agency conducting and supporting basic, clinical, and translational medical research, and is investigating the causes, treatments, and cures for both common and rare diseases.