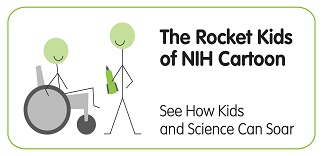 See the true story of two kids launched into a scientific adventure after getting a "grant" from the National Institutes of Health in 1957.

We designed this video to engage young people in science and show the powerful way NIH advances science and health.
Download QuickTime Files
Request a DVD or Broadcast Quality Files by contacting CSRCommunicationsOffice@csr.nih.gov.
Share the Cartoon: Teachers, students, broadcasters, webmasters and non-profit organizations can share and show this video without restrictions.
Read the Rocket Kids Story in Braille (BRF)
Hear and the Story in Digital Voice (DAISY)
Get More: View the book, other videos and our children's privacy policy on our Rocket Kids Web page.
Contact Us: Send your questions or comments to CSRCommunicationsOffice@csr.nih.gov.