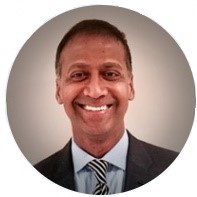 Dr. Vinod Charles, Ph.D., has been selected as the chief of the Bioengineering Sciences and Technologies (BST) Integrated Review Group (IRG) at the Center for Scientific Review. Dr. Charles joined NIH in 2004 as a scientific review officer in the Brain Disorders and Clinical Neuroscience IRG at CSR. He moved to the Division of Extramural Activities at the National Institute of Mental Health (NIMH) in 2007. He has served as the Acting Review Branch Chief, with supervisory responsibilities for an extended period of time for a 13-member team and, most recently, has been the Group Leader for Training in the Extramural Review Branch at the NIMH. He has extensive experience in the planning, coordination, and management of peer review of large and diverse grant applications and has managed the administration of NIMH projects with national scope and impact. Dr. Charles has also been involved with trans-NIH work, having served as the NIMH review representative to the Review Policy Committee and the Extramural Activities Working Group on Peer Review Outcomes. His previous work experience in drug discovery gives him a good command of the science covered in the BST IRG. Importantly, he has excellent communication skills and an extensive working knowledge in staff training and management, gained through his experience in industry and at NIMH. CSR will benefit from both his flexibility in management approaches as well as from his strong background in training of scientific review officers.
As BST chief, Dr. Charles will oversee six standing panels and two recurring special emphasis panels that cover fundamental aspects of bioengineering and technology development in the areas ranging from gene and drug delivery systems, to modeling of biological systems, to biosensors, biomaterials, and bioactive surfaces.
Dr. Charles earned a Ph.D. in systems neurobiology from Rush University. He then did post-doctoral research at the National Human Genome Research Institute and was funded as an NIGMS Postdoctoral Research Associate Training Fellow. Before joining the NIH, he was a program manager in a start-up biotech company, where his work focused on drug discovery and target validation with an emphasis on gene dysregulation in schizophrenia, bipolar disorder, major depression, and autism.